We Create Our own Happiness
Happiness Is An Inside Job
That concept was a hard one to grasp for me. So much easier to just blame someone else for all this issues that happen in our lives. Your mad because your not being real with everyone all around you.like a wall it's built brick by brick.once that wall is broken through it can be a huge freeing feeling.How? can you recall a happy memory? one that gives you butterflies or just turn a bad day make it better? makes you think if you can change the way you feel by just remembering a good memory. then it brings to question that the right circumstances don't have to be perfectly a lined to make you be happy.
Changing Your Thoughts
Question how many times do we focus on everything that doesn't go right in a day? A lot of us if we are honest with ourselves.We just keep focusing on it as if by focusing on it more we will be happy. assigning someone else to make us happy. My dear husband can't make me happy, he wants me to be happy , yes sure but he can't make me anything. I am the only one who can do it.
Vacation Time
My very first time without my whole family with me. I felt so badly about it Like how could I leave my husband to take care of everything.the kids,house,school,and appointments. it's ok to feel those things. I knew he could handle it.so I took my second trip with the family. you know to where you can actually enjoy yourself without the worry of everything. Let me tell you it was the most fun I have ever had. spending time enjoying and recharging my own batteries for once. it really helped me come home and be more present with my family.
Totally Happy
When I saw how happy the kids were while I was gone it really sent home the message that we both needed this. As a family with an active duty parent who deploys sometimes. he misses so many moments with his family.This was his time to truly bond with the kids. I can tell you how it warmed my heart to see him step out of the comfort zone and actually take all the kids outside. having twins that like to divide and conquer can be a hand full. we are still learning how to survive having twins.
validation
Also if I'm being truly honest here there was some fear if I could handle everything. As far as family,school,business. Being there for everyone else but my own dreams. it can be a tough balancing act to do. It let me see things in a very clear way. I can have it all as long as I balance everything to the best of my abilities.With that thought in my mind and feeling in my heart I took to writing. This poem I call happiness.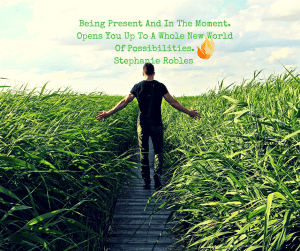 Poem Titled Happiness
Happiness is that inner glow that lightens the hearts
People often stop to stare at you with a start
Wondering what have you done so differently that has you glowing for days
No longer living for others but living for yourself
Enjoy the present moment with your loved ones all around
Like a child viewing his first Christmas
Your eyes are open and in awe of life's little blessing
A smile suddenly appears out of no where
The warm summer breeze blows through your very hair
With every step you take the weight of the world is a little bit lighter
Enjoying the birds song as you take a walk
The rhythm of life slowly fills your ears
Your heart quickens as it follows it's haunting beat
Stopping to enjoy the fragrance of roses along the way
It seems so perfect as if they want you to come out and play
Always remember to feed your inner child
Never let life rob you of those precious moments
They give your soul the very breath of life in those very moments
Fully recharged and heart restored
Now your fully ready for whatever life has in store
 self confidence
When your fore filled both in your heart and body your confidence in what your able to do. we talked about it a little bit on a blog post called enough is enough . click on the link to read that very empowering poem .I even got to shoot a gun this vacation which I never would have done. I definitely had a breakthrough this vacation . Fully prepared for whatever the universe throws at me . fully present and ready to get to work on my dreams . So that they are no long a dream but a reality. I definitely believe that we are never given a dream in our heart without the means to make it a reality.
The following two tabs change content below.
Our mission is to help our community as a whole connect with readily available resources to restore our active an inactive military families forge the bond in their life with their families.
Latest posts by lucia1214 (see all)
Comments
comments